SKY MUSIC RELEASES VILLENEUVE PIRONI ORIGINAL MOTION PICTURE SOUNDTRACK, WITH MUSIC BY NAINITA DESAI, AVAILABLE NOW ON DIGITAL PLATFORMS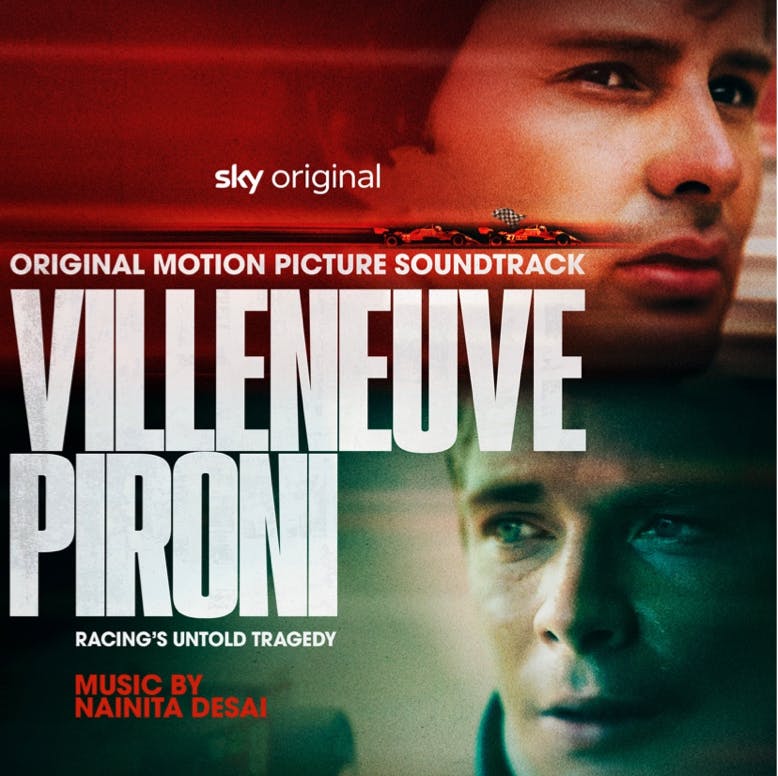 Sky Music is excited to announce the release of Villeneuve Pironi (Original Motion Picture Soundtrack) with music by Emmy-winning composer Nainita Desai. The 26-track album is available today, March 17 2023, to stream on digital platforms.
Nainita speaks about the music: "At it's heart, the score had to have huge emotion and drama. There are four main overarching themes and ideas I wanted to explore in the film; Passion and Friendship, Betrayal, Fear and tragedy, and love and spirituality, all underpinned with a sense of intrigue.
The drivers are both incredibly driven and live life to the full on and off the track, so I tried to mirror that with propelling energetic moments such as in "Gilles' Passion" that draws you into their world, but also inject fun 70's influenced music in tracks such as "Didier" and "Racing Legends", that illustrates the hedonistic craziness of their world.
I also wanted to represent the relationships with their families and the emotional trying times they went through, so there are several key moments of reflection, heartache and the coming to terms with loss in pieces such as "Torn Apart" which I tried to handle with a restrained, delicate touch.
The major shift in their story comes to a head with "The Betrayal - End Credits". It is the emotional culmination of their friendship with a dramatic twist that tales place over the course of a thrilling race. I fused a baroque classical, operatic approach with aggressive strings and on top of the energy, propulsive earthy percussion floats a strong emotional melody that has gravitas and elegance followed closely by a counter melody that eventually takes over taking you on a roller coaster of a race and emulates the real life rivalry between Gilles and Didier and the tragic outcome of the race."
The score was recorded at Abbey Road.
 
ABOUT THE FILM
Villeneuve-Pironi tells the story of two supremely gifted Ferrari F1 drivers, forever torn apart by a historic and hugely controversial moment in time. Friendship, duplicity, ambition, and honour all collide at racing speeds in this epic story. Told through compelling interviews by both the Villeneuve and Pironi families, a friendship becomes a rivalry, and a rivalry becomes a tragedy in this Shakespearean tale of two Formula 1 giants, told, for the very first time, by those who were closest to the men involved.
ABOUT NAINITA DESAI
Nainita Desai is an Emmy and Royal Television Society award winning composer best known for her Oscar nominated and BAFTA and Cannes winning feature documentary For Sama, and Sundance and BIFA winning feature The Reason I Jump. Other recent credits include BBC drama Maryland, Bafta nominated American Murder, ITV crime drama series The Tower (Mammoth Screen; Gemma Whelan), as well as Netflix hit 14 Peaks: Nothing Is Impossible (exec: Jimmy Chinn), Predators for Sky/Netflix, and acclaimed Interactive film-game Immortality. Film4 labelled her as one of the top 5 "composers of 2020 who should be on your radar" and Mark Kermode, the UK's leading film critic placed her score for The Reason I Jump in the Top 3 film scores of 2021 with Empire Magazine championed her as one of the "5 film composers to watch out for 2022".